Western North Carolina:
"From the electric colors of fall to the peaceful greenery of spring, the mountains of Western North Carolina are ever-changing; a haven for artist and businessman alike. Yet their beauty is as constant as the friendliness of the people."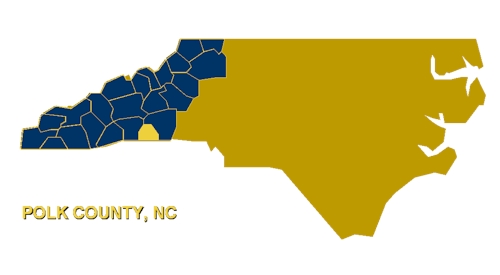 --------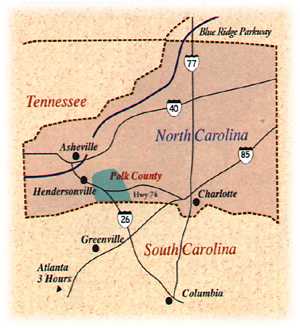 Polk County:
Located in southwestern North Carolina, Polk County covers 235 square miles. There are three Municipalities --Tryon, Saluda, and Columbus -- and six townships. The terrain is divided generally in to rolling foothills & mountains in the east and a southern spur of the Blue Ridge Mountains in the west. The altitude in Saluda is 2,096 feet, Tryon is 1,109 Columbus is 1,131 feet and Wildcat Spur is the highest point at 3,239 f eet.
The mountains and valleys have a variety of weather conditions. The presence of thermal winds provides a pleasingly mild climate for the residents of the lower elevations. Polk County, situated within the "Thermal Belt", has an average annual rainfall of 62 inches and an average temperature of 60 degrees; summer average temperature is 75 degrees and winter average temperature is 44 degrees. 4.9 inches is the average annual snowfall. It is no wonder that people love this area for the variety pleasant temperatures and terrain.
TRYON:
Tryon, is the largest town in Polk County. It is famous for being one of the select retirement areas in the United States. Tryon offers the charm and the beauty of the mountains. It is a great place to raise a family. Known also as an epicenter of equestrian events, Tryon was once the training center for the U.S. Olympic Equestrian Team. Also Tryon has many cultural events.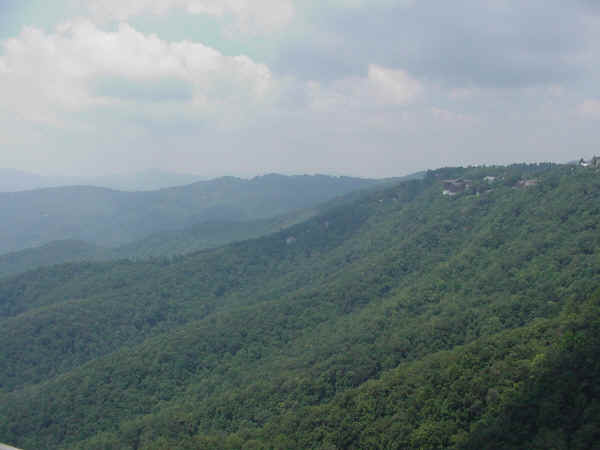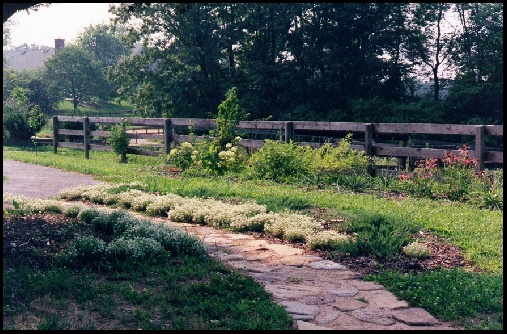 A Scenic pathway in the Mountains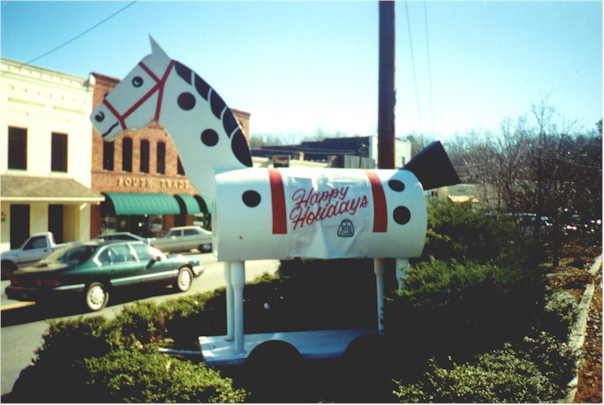 This is Morris the Horse. This is the 5th Generation of Morris. When
Tryon was being built, its engineers placed the 1st Morris right in the
center of where the town was going to be built. Here he stands today
as a "centerpiece" of Tryons' townlife.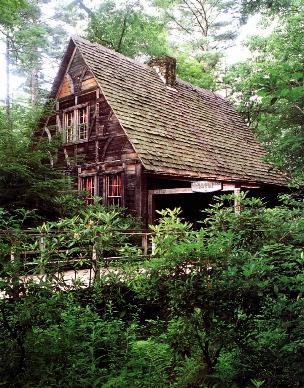 More Senic Mountain Pictures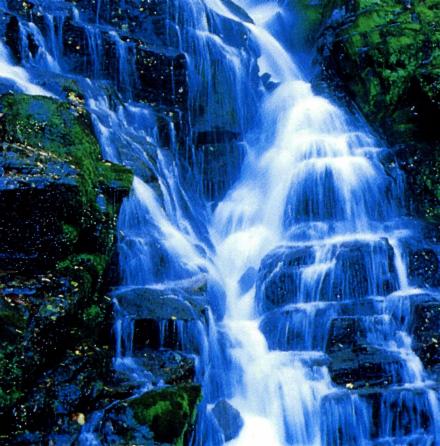 (Photo courtesy of NC Division of Travel and Tourism.)
This is Pearson's Falls. It is a stunning hike to an amazing waterfall
and is located just minutes outside of Tryon.
Some Interesting LINKs:
http://server.sec.polk.k12.nc.us/ - Information about local schools
http://www.visitnc.com -Tourist Info & Some interesting Facts
http://www.remaxtryon.com - Office webpage
http://www.remax.com - RE/MAX webpage -- Offers financial calculators, interest rates and other helpful aids
http://tryonnc.com - Tryon's Homepage
~~~~~~~~~~~~~~~~~~~~~~~~~~~~~~~~~~~~~~~~~~~~~~~~~~~~~~~~~~~~~~~~~~~~~~~~~~~~~~~~~~~~
~~~~~~~~~~~~~~~~~~~~~~~~~~~~~~~~~~~~~~~~~~~~~~~~~~~~~~~~~~~~~~~~~~~~~~~~~~~~~~~~~~~~
Directory of NC Chanbers of Commerce
AND
Visitors Infomation Centers:
NC Department of Commerce, Travel,
& Tourism
301 N. Wilmington St
Raleigh, NC 27601-2825
800 VISIT NC

NC Division of Tourism
800 787 0670

NC Campground Owners' Assn
919 779 5709

Smoky Mountain Host of NC
800 432 HOST

Asheville
Chamber of Commerce
800 257 1300

Blue Ridge Parkway
828 298 0398
828 271 4313

Great Smoky Mountains National Park
423 436 1200

Hendersonville
Visitors Bureau
800 828 4244

Henderson County
Chamber of Commerce
828 692 1413

Henderson County
Travel & Tourism
800 828 4244